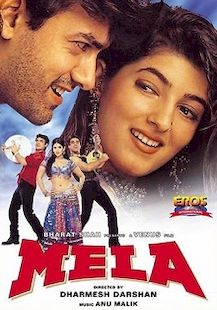 Flop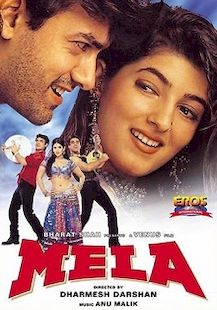 Flop
Total Nett Gross
:

15,18,50,000
| | | |
| --- | --- | --- |
| First Week: | | 6,82,00,000 |
| Budget: | | 18,00,00,000 |
| India Gross: | | 25,85,00,000 |
| Overseas Gross: | | $750,000 |
| Worldwide Gross: | | 29,11,25,000 |
Mela is a movie which takes you through the carnival of emotions with its three main characters, Kishen Pyare (Aamir Khan), Shankar Shane (Faisal Khan) and Roopa (Twinkle Khannna). Roopa, a beautiful young village belle is much loved by the villagers of Chandanpur. Chandanpur celebrates a huge Mela every year and this year they invite a minister (Kulbhushan Kharbanda) to inaugurate it.

In an assassination attempt that follows, a blood-carting massacre takes place. Chandanpur is devastated and Roopa's family gets wiped out. She vows revenge. Into her life enter two men, the gregarious Kishen and volatile Shankar. Kishen is a nautankiwala who dreams of making it big in life, while Shankar, a truck driver, is more cynical and practical. Roopa's entry into the lives of these men causes much upheaval in their inter-personal relationship.

How do Kishen and Shankar help Roopa in her quest for revenge? How they bring about a revolution by their courage and conviction from the crux of the film MELA.