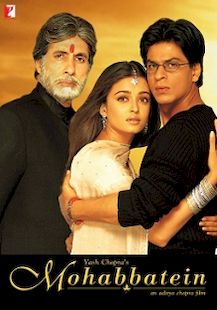 Blockbuster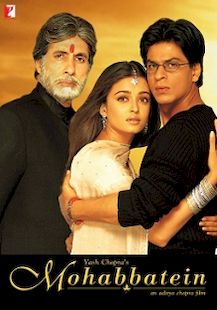 Blockbuster
Total Nett Gross
:

41,88,00,000
| | | |
| --- | --- | --- |
| First Week: | | 7,62,00,000 |
| Budget: | | 19,00,00,000 |
| India Gross: | | 70,62,00,000 |
| Overseas Gross: | | $4,170,000 |
| Worldwide Gross: | | 90,01,05,000 |
Mohabbatein is a film that portrays the battle between love and fear. It is a film based in a small North Indian town. A film that is set in one of the most prestigious educational institutions of the country, Gurukul. It is governed with an iron hand by the autocratic disciplinarian Narayan Shankar (Amitabh Bachchan). He runs the institution keeping in mind its three pillars "Tradition, Honour and Discipline". Every year he reminds the fresh batch of students that the outside world is closed to them once they have decided to enrol in this prestigious institution. And he warns them that any flouting or bending of the rules will not be tolerated.

To this institution come three youngsters, boys from different parts of the country with different characteristics, where fun and frivolity is frowned upon, where laughter or sharing a joke is deemed unacceptable. It is here that Vicky (Uday Chopra), Sameer (Jugal Hansraj) and Karan (Jimmy Shergill) form a kind of unbreakable bond. A bond that will require them to face the most difficult of tests and make choices that they never thought they would have to make. Because it is here that these boys break the cardinal rule of Gurukul & Narayan Shankar. They fall in love.

When Vicky, Sameer and Karan first meet Ishika (Shamita Shetty), Sanjana (Kim Sharma) and Kiran (Preeti Jhangiani) respectively, their lives are placed in turmoil as they would like to meet the girls, talk to the girls, and dream about the girls, but the omnipotent figure of Narayan Shankar looms large. It is only with the arrival of Raj Aryan (Shah Rukh Khan) the maverick music teacher, who encourages the boys to follow their hearts and break open the gates of Gurukul, that the boys actually begin living a life that they earlier only dreamed of.

Mohabbatein slowly becomes a story of the battle between what the two stellar men, Narayan Shankar and Raj Aryan, stand for. Two stubborn men that live their lives with completely opposing principles. One who stands for love and everything that the heart encompasses and the other who stands for discipline and fear and who believes that love only leads to pain and weakness. It is only the eventual outcome of the love stories between the six youngsters that will decide what will finally triumph, love or fear.