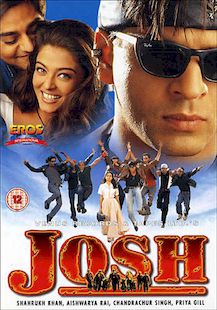 Average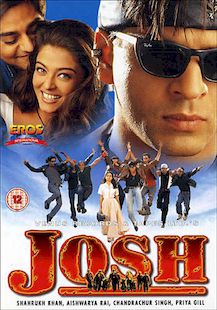 Average
Total Nett Gross
:

17,83,00,000
| | | |
| --- | --- | --- |
| First Week: | | 7,25,00,000 |
| Budget: | | 16,00,00,000 |
| India Gross: | | 30,05,00,000 |
| Overseas Gross: | | $1,127,000 |
| Worldwide Gross: | | 35,06,51,500 |
Set against the backdrop of Goa- Josh is a story about energy youth, love and the zest for life. Max (Shah Rukh Khan), a cool Goan dada is the leader of the Eagle gang which is constantly up in arms against the new inhabitants of Vasco town, Prakash (Sharad Kapoor) and his pack of the Bichhu gang. Max is love with Rosanne while she does not like him

The two gangs revel in this immature enmity and love to show off their strength with each other. This animosity is further complicated when Prakash's city bred brother Rahul (Chandarchur Singh) comes to town and falls in loves with Max's twin sister Shirley (Aishwarya Rai). Rahul, a sensible young guy, does not agree with the mindless violence around him. When Max comes to know about the romance between Shirley and and Rahul the fight between the gang turns more violent.

Will the Max and Prakash enmity ever turn into friendship so it will easier for Shirley and Rahul to get together?