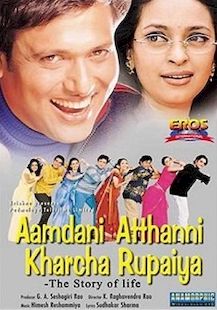 Below Average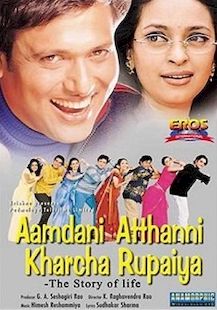 Below Average
Total Nett Gross
:

6,12,00,000
| | | |
| --- | --- | --- |
| First Week: | | 2,60,00,000 |
| Budget: | | 5,00,00,000 |
| India Gross: | | 10,16,00,000 |
| Overseas Gross: | | $80,000 |
| Worldwide Gross: | | 10,54,40,000 |
This story belongs to Ravi, Vijay and Appu who are young, handsome & energetic, married middle class people survive on their monthly salaries. They are not only neighbours but also are very good friends working together. They regularly keep on borrowing money from everyone as their expenses are always more than their income. In simple words "AAMDANI ATTHANNI KHARCHA RUPAIYA".

Their wives Meena, Anjali and Vimla are housewives but because of useless expenses of their husbands they are not able to pay the house rent and school fees of their children, that is why they are always insulted in the society. Meantime, a man called Bhishma comes to live in neighbourhood with his wife Zhoomari. Considering the problems of Meena, Anjali and Vimla, one day Zhoomari advises them to take up a job like her.

They want to but their husbands don't want them to work. In their view, a woman is meant to serve her husband, raise children and do the household chores. Meantime, the three husbands loose their jobs. Ultimately the wives are forced to go out and work. Angry with this change, the husbands kick their wives out of the house. But Bhishma and Zhoomari help them. With so much effort, they arrange Rs. 2 lakhs for the operation of Meena's daughter and then it is about the husbands slowly change their ways.