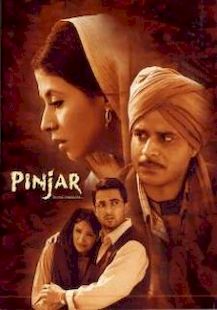 Disaster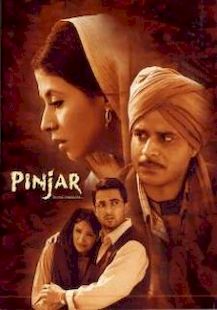 Disaster
Total Nett Gross
:

3,43,00,000
| | | |
| --- | --- | --- |
| First Week: | | 1,79,00,000 |
| Budget: | | 12,00,00,000 |
| India Gross: | | 5,24,00,000 |
| Overseas Gross: | | $200,000 |
| Worldwide Gross: | | 6,14,50,000 |
Pinjar tells the tale of a number of characters caught in the turbulent times of riot and chaos during the partition of India in 1947. The film has Urmila Matondkar playing Puro, daughter of the wealthy Mohanlal (Kulbushan Kharbanda) and his wife (Lillette Dubey). The family moves from Amritsar to a suburban village Chatwal, where Puro's marriage is arranged with Ramchand (Sanjay Suri).

But before Puro could dream of settling into a happily married life, misfortune falls upon her. An impulsive man named Rashid (Manoj Bajpai) wants to settle an old score with Puro's family. So he kidnaps Puro and confines her to his house in the same village. A seed of love sprouts in sinner Rashid's heart and he decides to marry Puro. But Puro, who has already been traumatized enough by Rashid, can't even think of it as a possibility.

In desperation, Puro manages to escape and return to her family. But her family refuses to accept her. A devastated Puro heads for the village well to end her life, but there Rashid awaits her with a proposal for marriage. Puro embraces life and marries Rashid. Meanwhile, Puro's sister Rajjo (Ishaa Koppikar) is married to Ramchand's cousin, while Puro's brother, Trilok (Priyanshu Chatterjee), marries Ramchand's sister, Lajo (Sandali Sinha).

Soon partition of India is announced and Ramchand's family is forced to flee eastwards, towards India. On the way, they are attacked by a Muslim mob and a pregnant Lajo is kidnapped by a Muslim. Meanwhile, Puro meets Ramchand at a refugee camp and he pleads with her to find his missing sister. Rashid, who wants to redeem himself from the sins he has committed, promises to help Puro. He helps Puro find the kidnapped Lajo and manage her escape safely back to her family.

What follows is the reunification of the family and Puro's ultimate acceptance of Rashid as her husband.