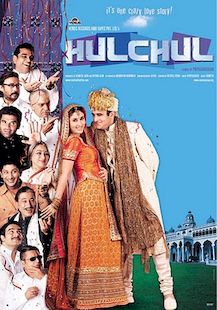 Hit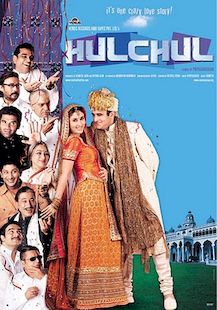 Hit
Total Nett Gross
:

20,29,00,000
| | | |
| --- | --- | --- |
| First Week: | | 8,32,00,000 |
| Budget: | | 10,00,00,000 |
| India Gross: | | 29,58,00,000 |
| Overseas Gross: | | $735,000 |
| Worldwide Gross: | | 32,86,91,250 |
Hulchul is the story of two conflicting families locked in a feud that drives them into taking vengeance from each other. Angaarchand (Amrish Puri) is the authoritarian head of the first family and the richest landlord of his village Matkapur. A firm and resolute man, he believes in keeping his family away from women and has inculcated these ideas in his four sons.

His elder son Balram (Jackie Shroff) tried to marry once, but failed miserably due to a tragedy that was brought about by a female. Balram's younger brother Kishen (Paresh Rawal) is a full-blooded Hanumaan Bhakt and a devout celibate who runs a dairy business. The third son of the family Shakti (Abraaz Khan) is a compulsive 'truth-speaker' and vows to keep away from even a woman's shadow. The fourth son Jai (Akshaye Khanna) studies law in a college.

Forever wishing the ill of Angaarchand's family is the family of Lakshmidevi (Lakshmi) who is a respected landlady in the neighbouring village of Anpura. She has three sons Surya (Akhilendra Mishra), Pratap (Dileep Dhillon) and Veer (Sunil Shetty). Of the three, Veer is the strong pillar of Lakshmidevi's family. A wise man who always stands for truth, he also keeps exposing his mother's wicked ideas and plans.

Lakshmidevi's only motive in life is to take revenge from the family of Angaarchand. To this end, she doesn't mind using her grand daughter Anjali (Kareena Kapoor) as a weapon to bring down the mighty Angaarchand. Anjali and Jai (Kareena and Akshaye) study in the same college. Knowing each other's family background well enough, they pretend to be in love with the each other in order to take revenge.

As the two go about unleashing their most deceitful tricks on each other, genuine love sprouts between them. But now the trouble is that their families are sworn enemies and they would have to end this animosity if they want their love to succeed.