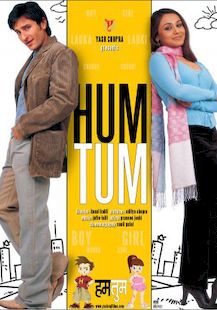 Hit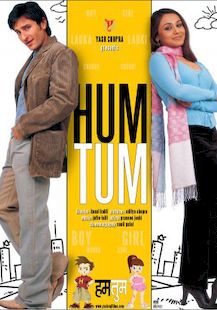 Hit
Total Nett Gross
:

21,63,50,000
| | | |
| --- | --- | --- |
| First Week: | | 7,49,00,000 |
| Budget: | | 8,50,00,000 |
| India Gross: | | 31,58,00,000 |
| Overseas Gross: | | $2,430,000 |
| Worldwide Gross: | | 42,63,65,000 |
The film tells the story of a cartoonist Karan Kapoor (Saif Ali Khan), who works for one of India's leading newspapers. His cartoon strip, titled 'Hum Tum', revolves around two characters - one male and another female.

The fictitious cartoon strip turns into reality for Karan himself in an uncanny way after he meets Rhea (Rani Mukerjee) for the first time in Amsterdam. The two are simultaneously attracted and repulsed by each other. Their opinions fail to match and they disagree on almost anything. But there is still an unseen thread that binds the two together at subliminal level. Karan involuntarily kisses Rhea during one of their talks with the result that their meeting ends on a sour note.

Six months pass and their paths cross again in New York. By this time the two had comfortably forgotten about each other. But, seeing Karan with his girlfriend, Rhea decides to make him pay for the Amsterdam kiss and tells Karan's girlfriend about the incident, thereby leading to a break off between the two.

This sweet and sour relationship between Karan and Rhea continue for a number of years. During this time Rhea goes through many emotional upheavals and Karan too matures into a responsible person. He even becomes close to Rhea's family and tries fixing her marriage with a friend of his but to no use. No one knows what is in Rhea's heart. No one knows what destiny has in store for the two of them.