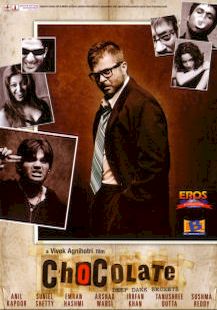 Flop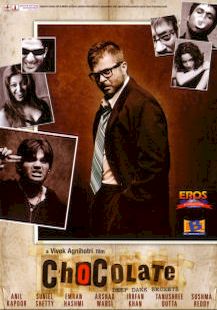 Flop
Total Nett Gross
:

6,64,00,000
| | | |
| --- | --- | --- |
| First Week: | | 3,70,00,000 |
| Budget: | | 9,00,00,000 |
| India Gross: | | 9,45,00,000 |
| Overseas Gross: | | $205,000 |
| Worldwide Gross: | | 10,35,20,000 |
Christmas Eve, London. While the snow-clad city gets ready to celebrate the festival of peace and joy, a series of bizarre incidents shatter the Christmas calm. A couple of luckless Indians find themselves hauled by the London police and made scapegoats. Or are they?

Chocolate unfolds a web of sinister plots, slowly unearthing true and mystifying personalities of seven individuals. Seven high-strung, distinctive people who've chosen to remain in the foreign land hoping to make or break their lives.

Krish (Anil Kapoor) is a sharp and egotistical lawyer who has unmatched legal skills. Rocker (Sunil Shetty) is and obsessed lover clear about one thing - nothing comes in his way. Pipi (Irfan Khan) is a soulful thinker who would always prefer to tread the hard but right path. Tubby (Arshad Warsi) is a playboy. Sim (Tanushree Dutta) is a temptress with a dubious past. Devaa (Emran Hashmi) is a passionate musician who sees the world in black and white. Mansoon (Sushma Reddy) is a charming down-on-her luck journalist.

Even as the dust settles and the truth slowly unravels, one thing remains clear - sometimes it's best not to ask too many questions.