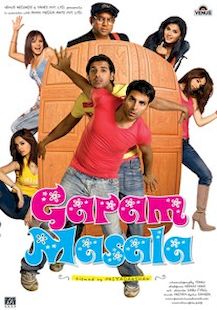 Hit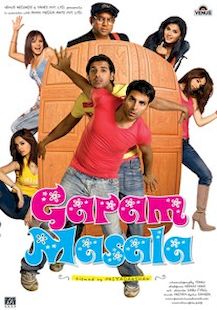 Hit
Total Nett Gross
:

29,00,00,000
| | | |
| --- | --- | --- |
| First Week: | | 14,13,00,000 |
| Budget: | | 17,00,00,000 |
| India Gross: | | 41,43,00,000 |
| Overseas Gross: | | $2,890,000 |
| Worldwide Gross: | | 54,65,17,500 |
Shyam and Makarand work as photographers in a commercial advertising agency. Both of them like to fool around with women, even though Makarand is engaged to be married to a doctor named Anjali. In order to outsmart each other, they two get into a competition of shooting a photograph, and Sam wins it, goes on a trip to the United States of America. Upon his return, he finds that Makarand is living a very enviable lifestyle with three of the most beautiful girls, who also work as air-hostesses. Sam meets them all, and finds out that the trio are unaware of each other, falls in love with Pooja; and begins several moves to upset Makarand lifestyle, and possibly get promoted as a Supervisor.

Makrand Godbhole alias Mac works as a Photographer with a firm, and spends considerable time photographing attractive young women in various attire. His office has provided him with accommodation, and an assistant named Shyam alias Sam. Mac and Sam are both in love with the firm's secretary, Maggie, although Mac is engaged to be married to Dr. Anjali. Both do their best to upset the other's plan in order to get in Maggie's good books, often with hilarious results.

Then both are entered in a competition for the best photograph, while Mac hustles in vain, Sam actually borrows an old photograph, wins the contest, is promoted as Mac's supervisor, his pay is doubled, he takes over Mac's accommodation, and also goes for a 10 day trip to the United States. When Sam returns back to India, nothing is the same anymore, Mac has moved into a palatial flat, has a cook named Mambo, and three gorgeous air-hostesses, namely Sweety Nair, Deepti, and Pooja, who time share this flat with him, each unaware of the others' presence. Sam is envious of Mac's women, and moves in with Mac - a action that will result in hilarious chaos - as both men must now out-do the other to win the affections of the unsuspecting beauties.