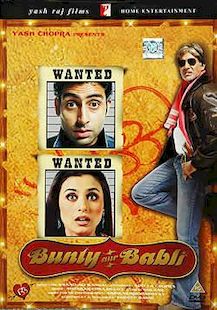 Super Hit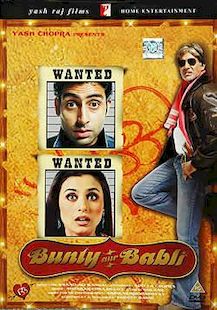 Super Hit
Total Nett Gross
:

36,25,00,000
| | | |
| --- | --- | --- |
| First Week: | | 14,37,00,000 |
| Budget: | | 12,50,00,000 |
| India Gross: | | 51,43,00,000 |
| Overseas Gross: | | $2,830,000 |
| Worldwide Gross: | | 63,74,05,000 |
Bunty and Babli are two avid dreamers. Two free souls born into caged small town realities. They grow weary of being two specks on the horizon. They desire the horizon itself. And so they pack their aspirations in worn out bags, whip a scarf of confidence around their proud necks and set forth. On a journey across the length and breadth of the country, spinning circles around the people they meet.

Born Rakesh in a lethargic, lead-eyed Fursatganj, he is a man of schemes, ideas, invention and restlessness. His small Uttar Pradesh town begins to feel a bit too small for his king size plans. He wants to be amongst the richest in the world. He wants to be in jacuzzi's. He wants to be in limousines. He wants to be a big blip on the radar of history. He wants to be big black typo in newspaper headlines. In short, he wants out of here.

In a parallel universe, in another slump-backed, crinkle nosed small town called Pankinagar, Vimmi, our heroine, faces the same dilemma. Does she follow the course every other young marriageable girl does? Or does she carve new fatelines on her soft as butter palms? In her mind (but in her mind alone!) she is the foxiest thing to ever have hit a ramp. She is the hottie the world can just gape at but never touch. She is Miss India. So she too decides to fly the coop.

Somewhere along their individual journeys, Rakesh and Vimmi meet, flogged by circumstance but unwilling to concede.In a moment of mistaken truth, Bunty and Babli are born. And the world gets turned on its head! We follow the duo through caper after caper, in which they meet rajahs, powerbrokers, shaadi bandwallahs, millionaires, investors, leaders, ministers, banjaras, elephants, explorers, hoteliers, chai boys and one very, very upset policeman!

The world sits up and takes wide eyed notice of this pair. Bunty is the Rakesh that Rakesh always dreamt of being, with a delicious twist. Babli is the Vimmi that Vimmi never thought she would become, with another delicious twist. Together they are more than the sum of their parts.

Together they are spiritual gurus, bureaucrat and secretary, gangster and moll, business partners, hen pecked husband and pregnant wife, lawyer and sexually harassed client, vagabonds, caught-in-a-downpour lovers and lots, lots more. And they seem to be loving every minute of it.

Their escapades play out against backdrops as varied as the Taj Mahal, the banks of the Ganges, the saffron's of Banaras, the browns of Kanpur and Lucknow, the whites of Mussoorie, the tinkling bells of Rishikesh and Hardwar, the skies of Delhi and all across the vein like network of the Great Indian railways and highways.

Every mundane reality in every dusty corner of India is flushed out of its slumber by a splash of 'Bunty aur Babli' excitement in this, the tale of two dreamers that blaze the sky like comets. But do not die. Like all good comets they promise to reappear again. And they do. And how they do all of that is, seriously, the stuff legends are made of.
Tax free in UP from week four.