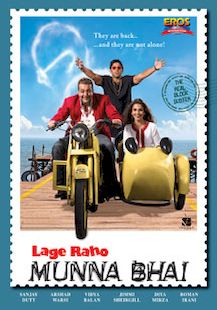 Blockbuster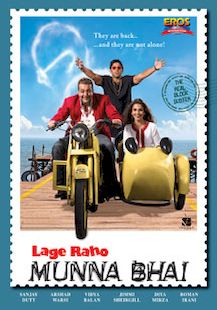 Blockbuster
Total Nett Gross
:

74,88,00,000
| | | |
| --- | --- | --- |
| First Week: | | 20,39,00,000 |
| Budget: | | 19,00,00,000 |
| India Gross: | | 1,02,52,00,000 |
| Overseas Gross: | | $5,120,000 |
| Worldwide Gross: | | 1,26,20,00,000 |
A hilarious underworld gangster known as Munna Bhai falls comically in love with a radio host by the name of Jahnvi, who runs an elders' home, which is taken over by an unscrupulous builder, who gets the residents kicked out ironically with the help of Munna's sidekick, Circuit, while Munna is busy romancing Jahnvi elsewhere. Munna, who is now masquerading as a Professor specializing in the life of Mahatma Gandhi, must now battle his very own forces and the builder but he has one ally on his side, none other than the great man, Mahatma Gandhi himself. Only trouble is that Munna may have problems convincing everyone about this presence as he is apparently is the only one who can see and hear him.

In order to meet and impress radio hostess, Jhanvi, Murliprasad alias Munna Bhai, dreaded underworld Don of Bombay, dons the guise of a Gandhian Professor, wins a contest, appears on the radio, has a date with Jhanvi, gets to meet Jhanvi's family, consisting of six elderly gentlemen who live at a palatial house called Second Innings, and wins a place in her heart. While Murli, Jhanvi, and the residents go on a trip to Goa, Second Innings is taken over by Lakhbir Singh alias Lucky, who intends to give this away as a dowry gift for his daughter, Simran, when she gets married to Sunny Khurana.

An enraged Murli is all set to confront Lucky and seize the house back, but decides to do it the Gandhian way by launching a peaceful Satyagraha in front of Lucky's house in a bid to get him to change his mind. The Satyagraha and a bit of negative radio publicity Lucky does change his mind, organizes a press conference, gets Murli to admit that he has been talking with none other than Mohandas K. Gandhi himself and as a result makes him look insane and lose all credibility. To make matters worse, Jhanvi finds out the truth about Murli. Now Murli must get back in Jhanvi's good books as well as teach the egoistic Lucky some truly Gandhian lessons.
Tax free in Maharashtra from week five.