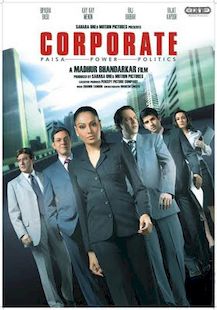 Average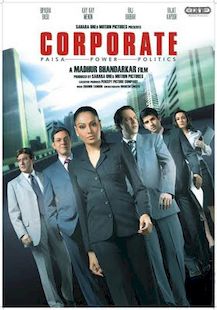 Average
Total Nett Gross
:

10,32,00,000
| | | |
| --- | --- | --- |
| First Week: | | 5,89,00,000 |
| Budget: | | 6,75,00,000 |
| India Gross: | | 14,55,00,000 |
| Overseas Gross: | | $110,000 |
| Worldwide Gross: | | 15,05,60,000 |
Corporate is the story of two leading industrialists in the food sector. Each powerful, each ambitious and equally relentless. When the market opens up to international players, competition gets fierce. And the battle for supremacy begins.

Moral codes are abandoned and ethics are forgotten as these two bitter rivals embark upon a deadly game of monopoly. Success and prestige take precedence over all else. Good is no longer good enough and people are driven to the brink of insanity, all in the name of business.

Meet the handful of men and women, who hold in their hands the power to influence the lives of unsuspecting millions. Live their lives. Learn their lies. This film takes a deep insight in the mindset of these powerful people and attempts to find out what makes them tick. It explores the nexus between the corporate world and the political and follows the trail of sex and corruption that hides behind a glittering and glassy exterior.