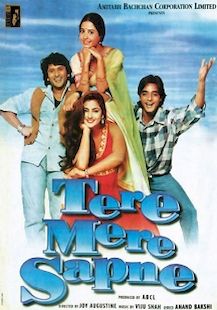 Hit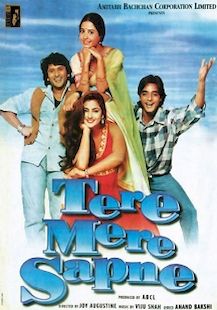 Hit
Total Nett Gross
:

7,70,50,000
| | | |
| --- | --- | --- |
| First Week: | | 1,43,50,000 |
| Budget: | | 3,00,00,000 |
| India Gross: | | 13,10,00,000 |
| Overseas Gross: | | $20,000 |
| Worldwide Gross: | | 13,17,20,000 |
It is the story of two apparently unlinked destinies that cross and set about changing many lives. The destinies are of two young men, Balu (Arshad warsi) and Rahul (Chandrachur Singh). Balu is a street cabby who doesn't get along with his Shastri father. Rahul is an orphaned NRI with a huge inheritance and a grandfather (Pran) who wants Rahul to have nothing to do with India.

Upon visiting India, Rahul meets up with Balu and decides to trade places with him. Rahul, who is now staying with Balu's family, falls in love with Balu's sister, Paro (Priya Gill). Balu in the meanwhile starts managing Rahul's company and falls in love with Pooja (Simran), the daughter of Mathur, who is the manager of Rahul's companies.

Mathur wants to have Rahul's companies for himself and kidnaps Rahul's grandfather for that purpose. Balu, as Rahul, tries to save both the company and Rahul's grandfather.