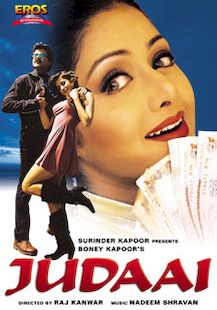 Super Hit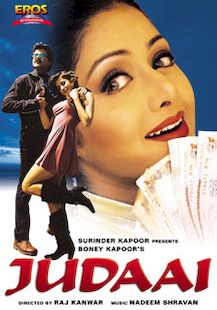 Super Hit
Total Nett Gross
:

14,09,50,000
| | | |
| --- | --- | --- |
| First Week: | | 2,23,00,000 |
| Budget: | | 6,00,00,000 |
| India Gross: | | 24,83,00,000 |
| Overseas Gross: | | $900,000 |
| Worldwide Gross: | | 28,04,75,000 |
Kajal (Sridevi) and her engineer husband Raj (Anil Kapoor) who are happily married. Kajal is lusting for the status of a high-society lady, she yearns for worldly comforts and luxuries and worships money. In fact, her greed for money is so immense that without realising it, she starts threatening the very foundation of her marriage. Raj tries to explain to his loving wife that money is not everything in life and that one must learn to live and be happy within his means.

In Raj's life comes Jahnvi (Urmila Matondkar), a rich and beautiful girl from America. She is the niece of Raj's boss and has utmost faith in the buying power of money. For her, everything in the world is a commodity that can be purchased for a price. Slowly but surely, she finds herself attracted towards Raj till one fine day, she decides that she should get married to him. All hell breaks loose in the lives of Raj and Kajal when Jahnvi's intentions are conveyed to them. Jahnvi strikes a deal with Kajal.

She offers Kajal Rs.2 crore for Raj's hand in marriage, who forces her husband to get married to Jahnvi. Soon Raj and Jahnvi start living as man and wife while Kajal indulges in everything that money can afford. But slowly she finds herself being alienated from Raj and her children and increasingly jealous of their relationship. Jealousy gives way to repentance. Kajal now wants her husband and children back. On the other hand, Jahnvi devoted to Raj isn't prepared to leave Raj for anything in the world.