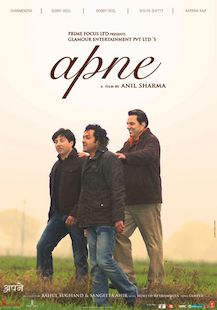 Average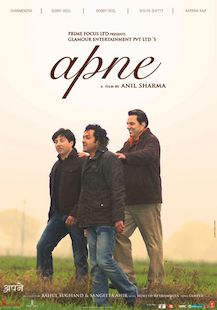 Average
Total Nett Gross
:

22,06,50,000
| | | |
| --- | --- | --- |
| First Week: | | 10,34,00,000 |
| Budget: | | 20,00,00,000 |
| India Gross: | | 30,98,00,000 |
| Overseas Gross: | | $2,050,000 |
| Worldwide Gross: | | 39,28,25,000 |
Apne is the story of a family, their relationship and their dreams. A father and his sons each have their own desires, aspirations and hopes. Baldev Sing Choudhary (Dharmendra) won a silver medal in the Olympics and made India proud. His only dream was to make history by becoming India's first world Heavy-weight Champion. But sometimes dreams shatter before they can be realized and make the heart bleed forever. Same fate awaited Baldev.

When in the US fighting for the World Heavy-weight Championship, the betting mafia conspired against him and got doping charges levelled against him, which got him banned from boxing. For an athlete nothing can be worse than doping charges. He wanted to get rid of this stigma and pain by training his elder son Angad (Sunny Deol) in the sport of boxing and make him a world Heavy-weight Champion and create history which eluded him.

But Angad had some other dreams, some other aspirations and other commitments. Karan (Bobby Deol), the younger son, a musician at par, in spite of wanting to fulfil his father's dreams was helpless. What was this helplessness? In spite of loving and living for each other why were these two sons not able to work along with each other to achieve their fathers dream? Will they ever succeed?