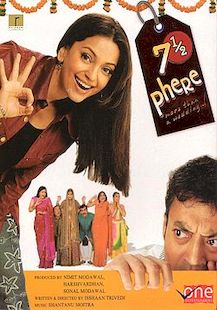 Disaster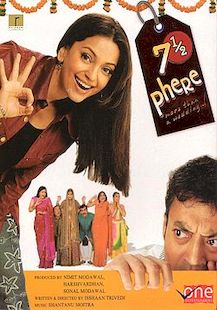 Disaster
Total Nett Gross
:

1,13,00,000
| | | |
| --- | --- | --- |
| First Week: | | 65,00,000 |
| Budget: | | 2,00,00,000 |
| India Gross: | | 1,52,00,000 |
| Overseas Gross: | | $--- |
| Worldwide Gross: | | 1,52,00,000 |
After having tasted great success with soaps based on traditional families, a national TV network is getting into the next phase of programming which is 'Reality TV' so they decide to go for the evergreen subject of marriages in Indian family. The channel asks their blue-eyed guy to produce the show. Asmi Ganatra (Juhi Chawla), the first time director, and her team finds out that at present the only family in Mumbai that meets the programming brief is Joshi's.

Joshi's are stunned when Asmi visits them with a request to cover the marriage for the TV network. Though the bride's father is willing to go along with the idea but the family's mafia, comprising of old guard plays the card of family's pride, they Veto down the proposal. In the meanwhile, Asmi has discovered that Manoj Joshi (Irrfan), bride's youngest uncle, has fallen for her. Knowing very well that her career would be blocked if she were unable to pull off the deal with the bride's family, she lures him to an arrangement where a multi camera set-up is secretly installed in the huge house.

Manoj realizes to his horror that he has opened a Pandora box. Unaware of hidden cameras, his family behaves true to themselves and slowly skeletons start tumbling out of the cupboard. The privacy of Joshi's family gets invaded by candid cameras and incidents which should remain buried come out in open and give the channel all sorts of masala to increase their TRP Ratings. And then one day Manoj and the channel discover the most shocking secret. And finally how does the Channel starts dictating lives of real people into Characters of daily Soap.

What happens to the show? What happens to Manoj and Asmi's love story? What happens to the marriage?