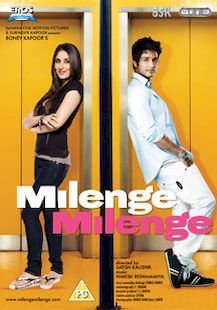 Flop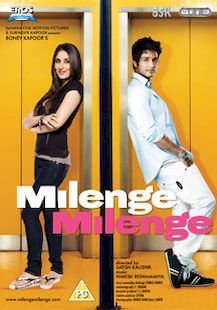 Flop
Total Nett Gross
:

6,57,50,000
| | | |
| --- | --- | --- |
| First Week: | | 5,66,00,000 |
| Budget: | | 12,00,00,000 |
| India Gross: | | 8,98,00,000 |
| Overseas Gross: | | $775,000 |
| Worldwide Gross: | | 12,62,25,000 |
Magic happens, if you let it; and sometimes even fate or destiny, or whatever you want to call it, steps in to lend a hand. But when it concerns love, and finding that special person you're going to spend the rest of your life with, should you risk tempting fate with a test of that love or what is seemingly meant to be, or should you just follow your apparent destiny and embrace it? Such are the questions two people must face and answer in the romantic drama Milenge Milenge .

This charming romantic comedy has all the right ingredients and serves up a dollop of sugary romance and slapstick fun. Amit (Shahid Kapoor) and Priya (Kareena Kapoor) meet at a Youth festival in Bangkok. Priya is a girl with substance, exactly opposite the teens and college going students of today's time. A pure romantic at heart she has this image of her would be life partner, who she expects would be a teetotaler, a guy who doesn't smoke and who doesn't lie.

Amit is the type of guy who is totally opposite of what Priya wants from her life partner. He drinks alcohol like a fish, lies on the slightest pretext and is a chain smoker. Their world collides when Amit by chance lays his hands on Priya's personal diary and learns of her likes and dislikes. He poses as her dream mate by giving her a totally different picture of himself. Priya gets instantly attracted to Amit, and they spend days together cavorting around Bangkok City together coming closer to each other by the second.

At the end of the festival when they are preparing to come back to Delhi, Priya discovers the copy of her diary in Amit's room. She realizes that Amit has made a fool of her and goes to confront him. Amit is at a local bar with his friends. He tells his friends that although he has cheated Priya, he is truly in love with her. He tells them that he will become the guy that Priya thinks he is and tells them that he will have a last glass of beer and the last cigarette of his life. As he lights up a cigarette and takes a swig from his glass, Priya appears in front of him and hell breaks loose. With a broken heart she confronts him and breaks the relationship.

Amit tries to explain himself but Priya totally ignores him. He tries to regain her trust by telling her that they are destined to be together. Priya decides that if it is fate that they should be together, then they will find each other in Delhi again, although both do not know each other's whereabouts in Delhi. Years go by and we introduce a new Amit as he comes back to Delhi from USA after getting his business management degree. He has gone through a complete personality change. He has become the man that Priya dreamed about.

On the other hand Priya has also moved on in life. She has now become a successful music video director and is in a relationship with a pop singer. Both of them are about to be married, but after all these years, they still have this nagging feeling that the other was his/her one true love. Of course fate conspires to bring them back together (after about a dozen very interesting near misses) as they each simultaneously undertake one last attempt to find one another just before they get married to someone else.


So is all of life pre-determined, even who our soul mate is?